Challenge Sprint Abitibi 2023
Guide Technique / Technical Guide
La 10e édition du Challenge Sprint Abitibi est organisée le lundi 10 juillet 2023 en marge du Tour de l'Abitibi Glencore suite à la présentation des équipes. L'objectif de cette épreuve est de pouvoir présenter chacune des équipes en actions et d'offrir un spectacle de haute qualité à la population locale de même qu'aux téléspectateurs.
The 10th edition of the Challenge Sprint Abitibi is presented on monday July 10th, 2023 after the Tour de l'Abitibi Glencore teams presentation. The aim of this event is to showcase each teams in action, and to provide a high-quality spectacle for the local population and television viewers alike.
Description
Le Challenge Sprint Abitibi consiste en une série de sprints disputés entre quatre coureurs, avec un processus d'élimination simple afin de couronner le meilleur sprinter. Les sprints seront disputés sur une distance de 600 mètres, soit un aller-retour de 300 m intégrant un virage autour d'une série de cônes.
The Challenge Sprint Abitibi consists of a series of sprints between four cyclists, with a simple elimination process, in order to determine the best sprinter. Sprints will take place over a 600-meter distance, in a 300 meters round-trip around a series of cones.
Un seul coureur de chaque équipe est sélectionné par son équipe pour la représenter contre les meilleurs sprinters du Tour de l'Abitibi.
Only one rider from each team is selected by his team to represent it against the best sprinters of the Tour de l'Abitibi.
Horaire / Schedule
Réunion obligatoire des directeurs sportifs
Mandatory team managers meeting
Présentation des équipes, prise de photos des coureurs, directeurs sportifs, mécaniciens et massothérapeutes avec les partenaires
Team presentation, official photo session with riders, team managers, mechanics and therapists with sponsors
Échauffement sur le circuit
Parcours / Course
Les sprints se déroule sur la rue Principale Nord à Amos devant le Parc de la Cathédrale.
The sprints take place on rue Principale Nord in Amos, in front of the Parc de la Cathédrale.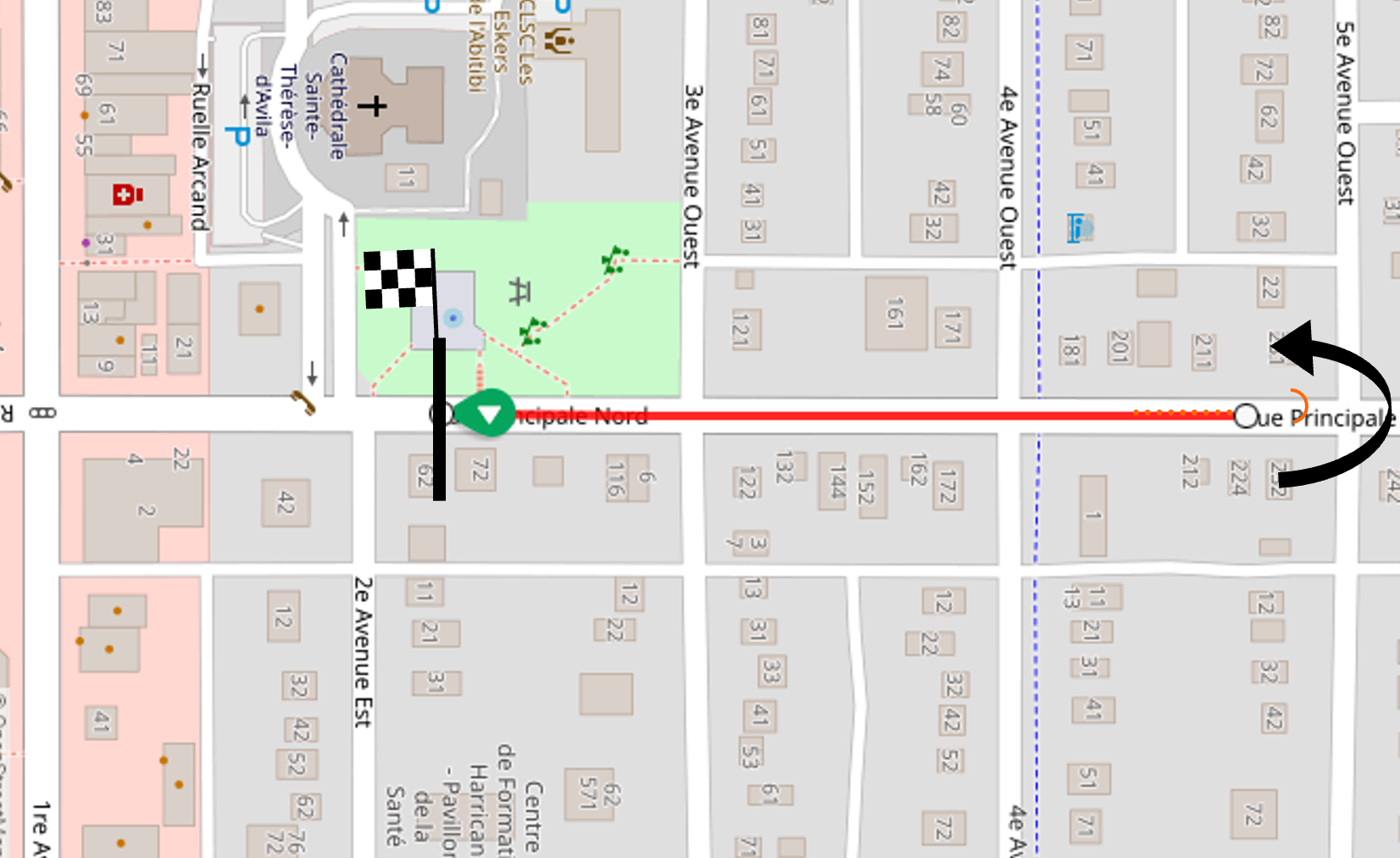 Dénivelé / Elevation

Note